Cashed-up property buyers with good credit histories are enjoying the best of all worlds as prices and interest rates fall, discounts increase and reduced competition means there is more time to shop around for the best deal.
"It's never been so good for buyers," says Emma Bloom, a director of buyers' agency Morrell and Koren. "They should be waiting like a tiger in the long grass for the right moment to strike."
The outlook for those renting while saving for a house is also brighter because falling prices make it easier to save a deposit and increased competition for tenants as housing supply rises means landlords are anxious to find or retain tenants by lowering – or capping – rents.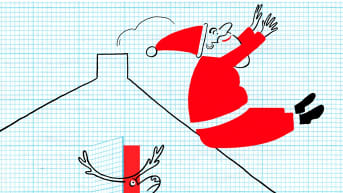 Here are eight ways to profit from a slowing property market.
Falling prices
A two-storey, four-bedroom house in Lilyfield, six kilometres west of Sydney's central business, that was on sale in November 2017 for $2.7 million is currently valued at 25 per cent less.
In Melbourne, a four-bedroom, two-storey house in a prestigious, leafy inner suburb that was last year sold for more than $7 million has dropped in value by more than $2 million, or 28 per cent.
House prices fell another 0.9 per cent in November, the largest monthly fall in 10 years, and are down 5.3 per cent for the year, according to analysis by investment bank Morgan Stanley.
But there's no need to rush into the market because low auction clearance rates and weak sentiment are evidence of even bigger bargains as prices continue to fall, says the bank, despite being 9.5 per cent down from peaks.
Trading up
Mark Wridgway, a director of real estate agent RT Edgar, is willing to sell his family home at a discount for what he considers a great deal on a house closer to his work and schools his children attend.
Related

By Christopher Joye
"There are great opportunities to trade up in these markets," says Wridgway, despite recent falls in property values.
Wridgway has paid about $6.2 million for the four-bedroom, two-bathroom house on a 1210-square-metre block that was last year sold for more than $7.8 million and passed in at auction earlier this year at $5.6 million. The father of three will be selling his home in a nearby suburb to fund the deal for around $5 million.
His company handled last year's sale and the recent auction was conducted by Marshall White.
"I will be taking a hit on selling my home but it's worth it for the much better location and being closer to schools," he adds.
Related

By James Eyers and John Kehoe
Wridgway says prospective buyers are being put off by falling markets and tightening credit.
"Ninety-nine times out of 100 when lots of people go one way, the market goes the other," he says about changing market sentiment.
Developer deals
Thousands of new apartments continue flooding on to the market, putting pressure on developers to cut prices and offer incentives to buyers, ranging from cars and cash bonuses to white goods.
Some property groups are offering mortgage brokers, financial advisers and accountants a $10,000 bonus for every sale plus generous rebates on stamp duty and other incentives.
Related
By Michael Heath
Buyers should check with their adviser and seek rebates on any incentives.
"While they are attractive, they are not the main game," says Christopher Foster-Ramsay, principal of mortgage broker Foster Ramsay Finance. "Buyers need to focus on whether the property is right for them in terms of design, location, finance and price."
For example, the sale of $1.5 million apartments in Ashwood, about 14 kilometres south-east of Melbourne, includes free blinds and the waiving of stamp duty.
Developers are throwing in luxury fixtures such as marble kitchens, Miele appliances, timber flooring and high ceilings.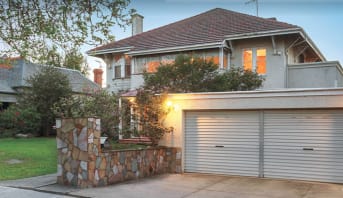 Buyers of a three-bedroom apartment in beachside Mordialloc, about 24 kilometres south-east of Melbourne, selling for $990,000 are being offering 12 month rent guarantee – which is paid even if a tenant cannot be found – and free blinds.
Lender cuts
Lenders are keen to do deals with the right borrowers. They want the business because net interest margins are their biggest source of profits, pumping up dividends and executive bonuses.
First-time buyers with deposits of at least 20 per cent are hot property and attracting great rates, terms and conditions.
CBA, the nation's biggest lender, recently increased discounts by up to 50 basis points on variable mortgage rates to attract more first-time buyers and existing buyers seeking to refinance.
Other lenders, including ANZ, Westpac, Macquarie Bank and HSBC Australia, are following up recent rate rises with cuts for selected existing borrowers.
Mortgage brokers, which act as an intermediary between lenders and borrowers, reckon they can improve deals for owner-occupier borrowers.
Foster-Ramsay says brokers should be able to knock up to 15 basis points off the advertised rate for the "right borrower", which is typically someone with a good repayment history wanting to borrow 80 per cent or less via a principal-and-interest loan.
"If there has ever been a great opportunity for a terrific deal, it's now," says Foster-Ramsay.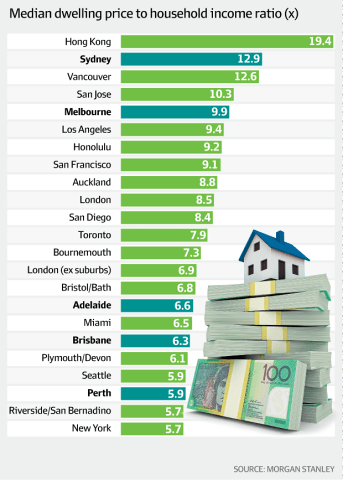 Other incentives on offer from lenders include waived administration fees and cash incentives to help pay legal and moving costs.
For example, Pepper Home Loans, a non-bank lender, is waiving $1800 in upfront fees on some loans.
Vendor discounts
With auction clearance rates having dropped to about 40 per cent during the past two months, many sellers have been forced into private negotiations, according to CoreLogic, which monitors auctions.
Vendor discounts are relatively low but increasing, nationally averaging about 4.6 per cent for houses and 4.9 per cent for apartments, according to investment bank Morgan Stanley.
They range from about 4.3 per cent in Melbourne to 6.4 per cent in Perth and are rising as sales continue to decline.
Another factor putting pressure on sellers is the number of days properties are on the market. It is spiking to highs not seen for about six years, typically between 30 and 56 days depending on the capital city.
Bargain hunting
Local and overseas investors are selling discounted apartments in prestigious high-rise developments like Australia 108, Aurora and Premier Tower because they cannot secure bank funding.
Online websites, such as Gumtree, are advertising heavily discounted apartments, or advertising that the seller is open to negotiations.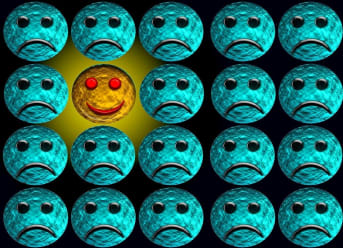 For example, a Queensland investor is selling a 49-square-metre one-bedroom apartment in Australia 108, the tallest residential building in the southern hemisphere, for $459,000, having bought it off the plan for almost $500,000.
Increasing numbers of properties are selling at "reduced prices" and mortgagee-in-possession sales are rising. A mortgagee in possession happens when a borrower defaults on their repayments and the lender takes possession and sells the property.
Falling rents
For those renting while they save for a deposit, lower rent increases disposable income and contributes to savings.
National rental yields are rising as prices have declined to about 3.4 per cent for houses and 4.2 per cent for apartments, according to analysis by CoreLogic. (Rental yield is a measure of how much cash an income-generating asset produces as a percentage of that asset's value.)
But median rents are falling in Sydney (the nation's most populated city), Perth, Darwin and parts of Brisbane as supply increases or demand falls. Melbourne remains robust as surplus stock is being absorbed by rising rental demand.
Rental returns nationally on houses are about 1.6 per cent, which is below the benchmark inflation ration of just over 2 per cent, according to SQM Research, which monitors rents and property prices. For apartments the return is 3 per cent. In Sydney rents for housing and apartments during the past 12 months have fallen by 3 per cent and 2 per cent respectively.
More time to negotiate
Anxious buyers and curious neighbours no longer crowd suburban streets for weekend auctions, say real estate agents and buyers' agents.
"These days it's none, or one," says buyers' agent Bloom about auction turnout and bidding.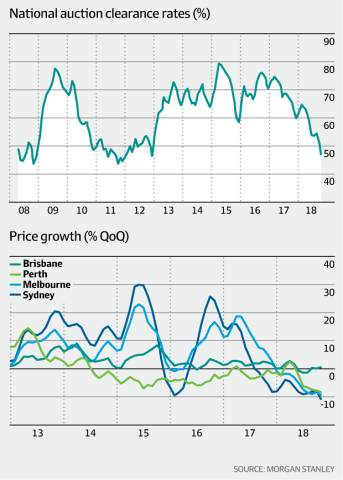 "That means buyers are in the driver's seat," Bloom says. "The vendor no longer sets the pace. The fact that a property sold for x,y, or z two years ago no longer matters. Prices are driven by competition and there is no longer the same competition."
Buyers can also negotiate more flexible settlement conditions and discuss the price with less likelihood of being gazumped by a rival bidder.
https://www.afr.com/personal-finance/banking/how-to-profit-from-a-falling-property-market-20181205-h18rol